Restaurants & Bars
Royalton CHIC All Inclusive Punta Cana Resort features superb à la carte restaurants offering gourmet cuisine with the All-In Luxury concept. Enjoy local and international delights in the buffet or feast on eclectic cuisines from around the world at any of the à la carte dining venues. Treat your palate to a flavor sensation feasting on cuisine from around the world at our 6 restaurants including a large buffet, signature C/X Culinary Experience ($), and your choice of 4 à la carte restaurants.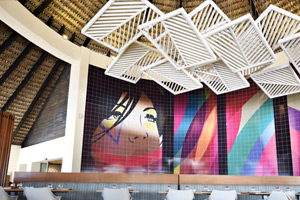 Elements
Discover the freshest local ingredients and enjoy a selection of local and international food options served at stations within this open air buffet that overlooks the ocean, offering fresh fruits and juices as well as healthy options.
Breakfast: 7:00am – 10:30am
Lunch: 12:30pm – 3:30pm
Dinner: 6:00pm – 10:00pm
Dress Code: Casual Elegant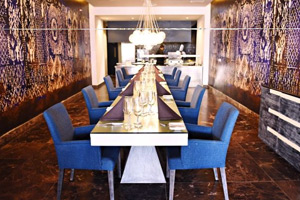 C/X Culinary Experience
Italian Trattoria
Pleasing to both the eye and palette, a vibrant menu is sure to create a memorable dining experience as your personal chef takes you through seven courses with musical selections to accompany each dish.
Dinner: Seating 6:30pm and 9:30pm | Dress Code: Casual Elegant
Additional Cost $75 USD per person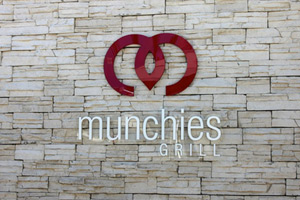 Munchies
The menu's take on casual comfort foods will hit the spot – so you can have a quick bite and get back to your place under the sun.
Hours: 11:00am – 6:00pm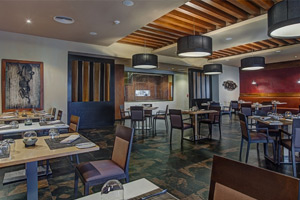 Hunter
Steak House
This unique restaurant offers guests a grand steakhouse experience. Watch chefs in the open kitchen as they perfectly prepare your steak.
Dinner: 6:00pm – 10:00pm | Dress Code: Evening casual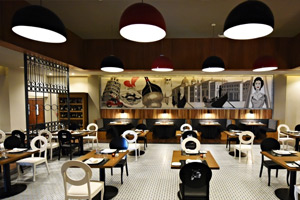 Vespa
Italian Cuisine
Enjoy a wide range of Italian cuisine at this delicious trattoria. Its authentic design and traditional menu make this restaurant the perfect placeto enjoy well-known Italian comfort food.
Dinner: 6:00pm – 10:00pm | Dress Code: Evening casual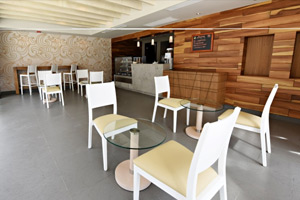 Insomnia
Enjoy fresh oven baked breads, pastries, cakes and ice-cream, and delicious cappuccinos and espressos made-to-order.
Hours: 7:00am– 9:00pm | Dress Code: Evening casual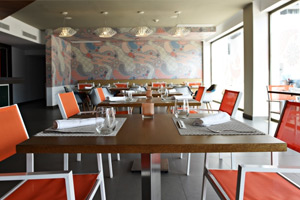 Pescari
Ceviche and Sushi Cuisine
A sleek design sets the mood for an authentic sushi experience. Explore the best of seafood and Japanese cuisine and choose mouth-watering sushi or a selection of ceviche in an a la carte dining experience.
Lunch: 12:30pm - 3:30pm
Dinner: 6:00pm – 10:00pm | Dress Code: Evening casual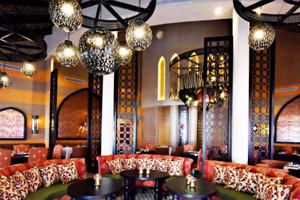 Tagine
Taste the culinary treasures of the Middle East and South Asia within this visually striking restaurant, infusing authentic flavours to create a feeling of exotic appeal in tropical paradise. Enjoy a delicious lamb tagine or savoury samosas paired with a delicious wine in the sultry ambience.
Dinner: 6:00pm – 10:00pm | Dress Code: Evening casual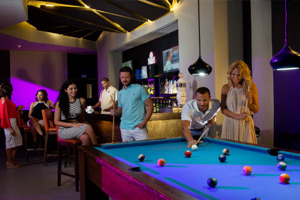 Excite
Not only is Excite the best place to catch all the live-action for your favourite sports teams, this bar – located just off the lobby – transforms into a trendy lounge at night. Dance and drink to the sounds of CHICs resident DJs after cocktails at Sublime.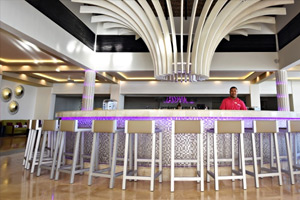 Sublime
As the name alludes, this is not your average lobby bar. Chairs hang from the vaulted ceiling and stunning architecture opens the lobby to an open-aired seating area to create the perfect place to sip and socialize.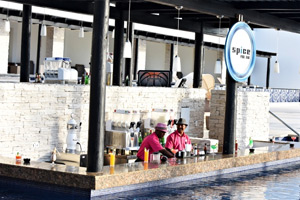 Spice
Swim up and chill out in the guest-favorite pool bar. Getting the next round of drinks for your friends is easy with drink service all afternoon. Float over to an underwater stool and take a relaxing break from the sun at this perfect spot to sit and socialize.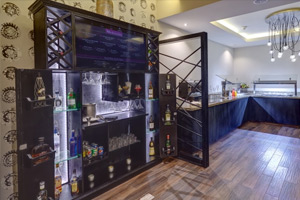 Diamond Club Lounge
Diamond Club™ Lounge offers Diamond Club™ guests a selection of premium liquors in an upscale and exclusive ambience. Each morning and afternoon canapés are set out for a quick-bite in a relaxing air-conditioned space, near the main pool.